Who enjoys chasing up invoices? No one – that's who. It's time-consuming, relentless and adds an extra bundle of unfriendly stress to your already daunting workload. Fortunately for you, the team over at Chaser has the perfect solution to your invoicing woes.
"We understand how much it hurts when customers don't pay their invoices on time. We know from our Qualified Accountant and Finance Director experience that sending polite persistent chasing emails to customers about their unpaid invoices is key to getting paid on time. Chaser sends these emails for you automatically, with you firmly in the driver's seat. So you can have confidence in your cashflow and spend less time chasing invoices."
– David Tuck & Mark Woodbridge, Chaser Co-founders.
A simple to use add-on to your Xero accountancy software, Chaser provides you with a hassle-free method of ensuring all of your invoices are paid on time, automatically. Set-up is easy, and with a few quick clicks you can personalize the automated emails to maintain the all-important 'human touch', then watch as Chaser does all of the hard work for you! It integrates seamlessly with Xero too, it pulls through all your invoice information and contact details so you don't do anything. The only thing you need to keep up-to-date with is reconciling, just so Chaser doesn't chase anything that is paid. And when it is paid, Chaser even sends a thank you email.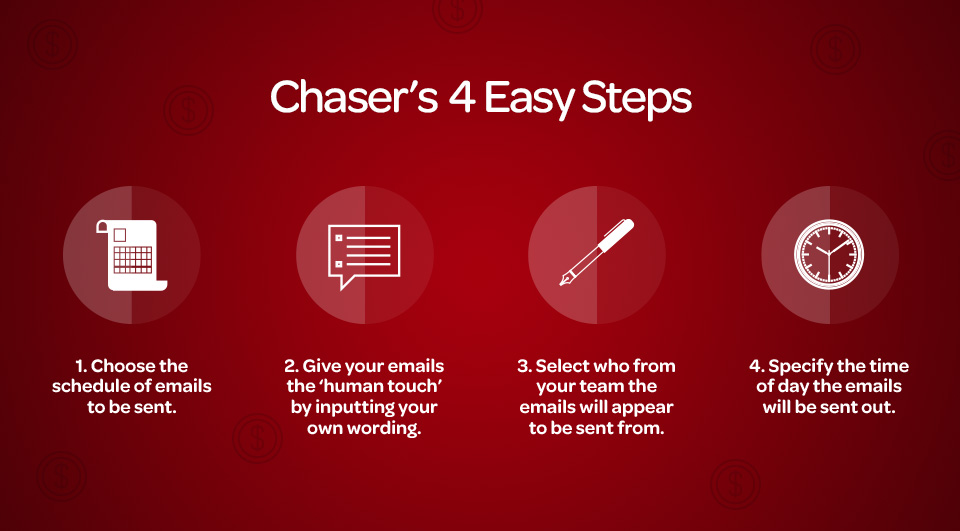 Sounds pretty perfect, doesn't it? We thought so too. Here at Not Just Numbers, we are specialist advisors for the Chaser add-on to help bring this slick invoicing solution to your business.
"Chaser has helped to transform our cashflow, the first day we collected over £8000 from 8 invoices within a few hours!"
Every business has 'those' clients. You know the ones. The clients who will kick and scream, forcing you to waste weeks and weeks nagging, until they finally pay their invoice. With Chaser, you can say goodbye to the days of tedious email chasing, and welcome this fantastic Xero add-on with open arms.
To enquire more about how the Chaser software can help your business, get in touch by email hello@notjustnumbersltd.co.uk or call us on 0113 385 4656.