Imagine one single dashboard that told you all your important metrics, from prospect to profits.
Now imagine that dashboard synced perfectly with Xero and required no manual input from you. No chasing after stray slips of paper, re-keying forecasts or hunting through spreadsheets to extract disparate data figures.
Well that's exactly what the team over at Crunchboards wanted and couldn't find – so they went and built it.
Crunchboards is yet another fantastic addition to the Xero add-on family, offering an all-in-one forecasting and reporting engine for your business.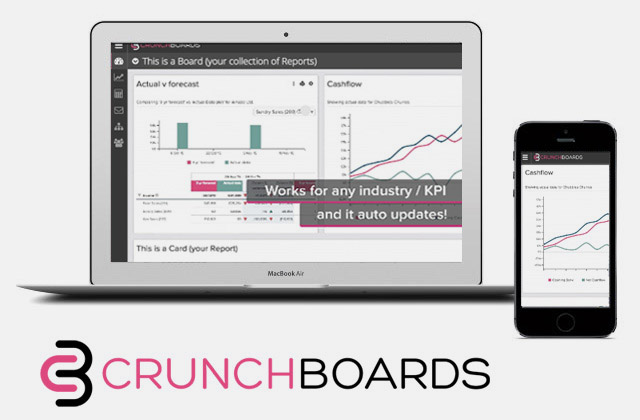 Live business plans, 3-way cashflows, performance tracking, and KPI analysis are all just a few clicks away in the Crunchboards dashboard. The clear and intuitive interface makes budgeting, forecasting and big-business planning effortless. Collaborate with your team, receive KPI alerts or use this powerful tool to help with your budget planning. The Crunchboards team have thought of everything.
With a Not Just Numbers 'Diamond' package, you can free yourself from the chore of trying to pretend that you understand those stacks of excel sheets. The Crunchboards support team is fantastic and their website is full of useful 'how-to' guides, videos and cheatsheets.
Crunchboards allows you to visualise all of your business data in real-time helping you make big business decisions and plan with confidence. Over 12,000 businesses are already using Crunchboards to transform the way they create reports and forecast change.
If you'd like to find out more about how Crunchboards can help your business, get in touch with one of our team at hello@notjustnumbersltd.co.uk or visit www.crunchboards.com.