Spotlight Reporting is an amazing tool in our family of Xero add-ons.
Not Just Numbers are Super VCFO partners of Spotlight Reporting – the dashboard, forecasting and reporting tool that integrates seamlessly with Xero.
Spotlight Dashboard is the one page reporting dashboard that focuses on what really matters. With drag-and-drop functionality, Dashboard is super-fast and easy to use.
Spotlight Forecasting is an 'all-in-one' forecasting tool which brings together budget creation, full 3-way forecasting and scenario building capability. Forecast the future with confidence.
Spotlight Reporting creates useful, attractive performance reports quickly and efficiently. Ideal for organisations that need deeper insight and analysis.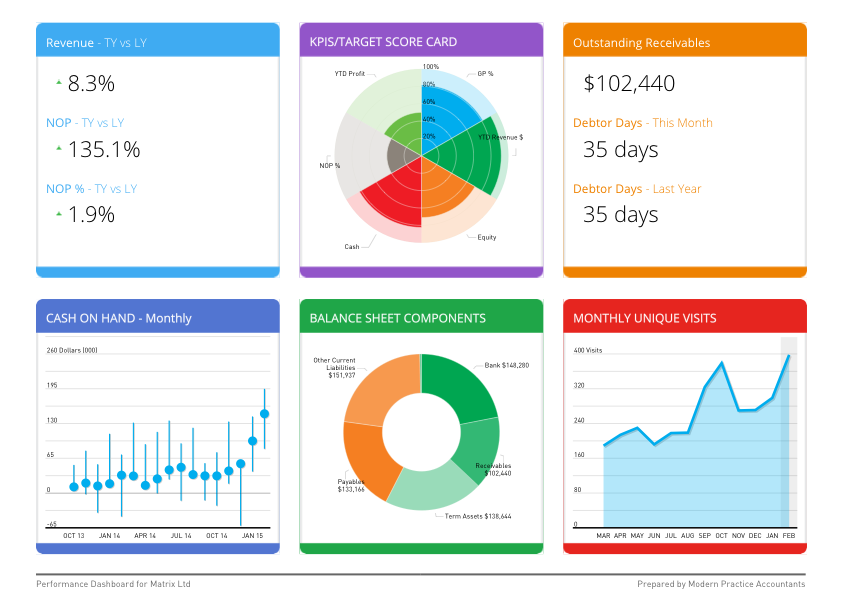 When you're running a business you need to focus on attracting new customers, maximising profit from existing customers and ensuring you have decent profit margins. In order to do this properly, you need to focus on your numbers.
Yet often, we are too busy to focus on the numbers that matter, especially if those numbers are hard to read or buried away.
With Spotlight Reporting and Xero, you can have access to one dashboard. A singular place of real-time information on your business and the numbers that matter. This helps you make better decisions every day, rather than retrospectively at the end of the month.
Here are some essential metrics that you should have on your dashboards:
Turnover
Gross Profit
Net Profit
Sales by line/product
Profit margins
Orders taken
Average sale value
Leads generated
Cash in bank
Debtor amount
Creditor amount
With Spotlight and Xero, you know where you are and where you're going. It allows better decisions on the type of work you bring in, how fast you need to complete work, when to invoice, managing relationships with key suppliers, stock control and much more. It's complete control, at your fingertips.
Gone are the days when you'd need a quarterly meeting with your accountant to see this stuff. With Not Just Numbers systems in place, you'll be thrust into an FD role with complete confidence.
To enquire more about how Not Just Numbers can help your business, get in touch by email hello@notjustnumbersltd.co.uk or call us on 0113 385 4656.