Agenci CEO Stuart Barker presents the Top 5 Tips to being cyber secure. In an ever online, connected world you are at risk every day from cyber criminals. We look at how to reduce your risk, protect your business and protect your family.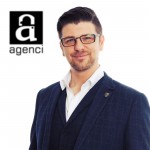 1. Anti Virus
Anti Virus is your front line defence against the cyber bad guys. Make sure you have it and make sure it is up to date.
2. Updates
Your apps and devices need updating. As security flaws are found, companies release updates to close those loop holes. Make sure your software is up to date.
3. Don't Click Links
Links are the quickest way for the cyber criminals to gain access to your information including your bank accounts. If you don't know the link or don't trust the email that sent it – DON'T Click it.
4. Passwords
We all know that passwords are a pain. They are also essential. Like your under wear, never share them and change them regularly.
5. Beware what you share
Consider that everything you type, write, email send and post can be read by someone somewhere. Beware how much you share, the cyber criminals are watching too.
Agenci
Agenci are an international cyber security company here in the heart of Yorkshire. They are passionate about the essential protection of your data and are proud to be a client of Not Just Numbers. You can speak to Stuart on 08454 133666 – even if it is just to arrange a coffee. He loves coffee. Agenci also deliver ISO 27001 certification and pen testing.